Due to bad weather, the annual meeting has been rescheduled for the 19th.
November 8: Election Day Turkey Supper, a popular tradition going back over 50 years. The menu features turkey with gravy and stuffing, potatoes, squash, beets, rolls, beverages, and pie for dessert. Family-style seating begins at 4:30; take-out is available starting at 4 p.m. Service continues until sold out. Adults, $10, children, $6, and children under 5 are free.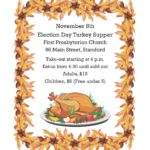 Reverend Dale Francis will step up to the pulpit on Sunday, June 5.
He is looking forward to meeting all in our Church family. Please gather together to give him a warm welcome.
And don't forget our traditional Brooks' chicken barbeques:
Memorial Day, Monday, May 30 from 11:00 a.m. until we run out and
Flag Day, Monday, June 14 from 4:00 p.m. until we run out