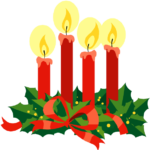 Sunday, December 24 — 7:00 p.m. service
We will not have a morning service on Sunday, December 24. Instead, the Christmas Eve service is at 7:00 p.m. The Christmas Joy offering will be taken on Christmas Eve at that evening service.
Christmas flower orders will be taken by Bonnie McKenzie. 607-652-2531.
Tuesday, November 7th — Election Night Turkey Supper
The First Presbyterian Church in Stamford will host an Election Night Turkey Supper, a popular tradition going back over 50 years. The menu features turkey with gravy and stuffing, potatoes, squash, beets, rolls, beverages, and pie for dessert. Family-style seating begins at 4:30; take-out is available starting at 4 p.m. Service continues until sold out. Adults, $10, children, $6, and children under 5 are free. First Presbyterian Church, 96 Main Street, Stamford.
Sunday, September 10 — Potluck Dinner after Church Service

September 30 — Wild Apple Jelly-making Workshop
Join folks from the Michael Kudish Natural History Preserve for an afternoon of fall fun with a delicious take-away! If you'd like to help gather the apples, meet at the Preserve (just past 2515 Tower Mountain Road, Stamford) at noon, or meet in the church kitchen at 1 p.m. Jars, lids, rings, canning kettles, and jelly bags will be provided. Each participant should bring a non-reactive (stainless steel, enamel, or stove-top-safe glass, such as Corning Visions) 2-qt or larger pot for making the final product; additional cheesecloth would be appreciated. Jelly takes however long as it takes, but we'll almost certainly be done by 5 p.m.
July 10 – 14 – Rock n' Pop Theater Camp
Rock n' Pop Theater Camp July 10 – 14, 9:30 am – 3:30 pm Ages 8-13 With Nancy Tarr At Stamford First Presbyterian Church 96 Main Street, Stamford, NY
roxburyartsgroup.org
(http://roxburyartsgroup.org/2016/06/18/july-10-14-rock-n-pop-theater-camp/)
FLAG DAY BROOKS BBQ
Napa Parking Lot—5 p.m. until sold out, $7 halves
The parade starts at 6 p.m.
******************************
AARP Driver Safety Course Held 3 times – you must attend both sessions in a week
May 18 & 19 1:00-4:00pm each day
May 25 & 26 1:00-4:00pm each day
June 1 & 2 1:00-4:00pm each day
Call John Asperoy 652-2878 for more information
******************************